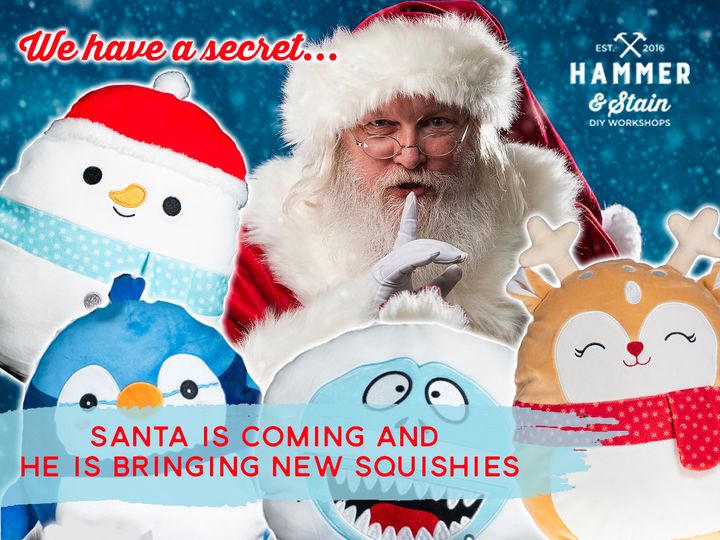 12/9/23 10AM Santa Squish Party - Reserved Ticket
 We are SO excited to offer Santa & Squishies.
This workshop is suggested for kids ages 3-14.  10:00am is the start time and we will kick off the morning with our Squishies!! Kids will stuff, name, seal & adopt their Squish! Think Build a Squish! Kids will get to enjoy hot chocolate & fun holiday snacks while they are working on their new friend! 
THEN.... We will have a guest appearance from St. Nicolas himself! He will talk with all the kids and take individual pictures with them as well. It will be a jolly of a GREAT TIME! Space is limited although we will open another date/event if there is a demand and this one fills up. 
This registration allows for one child to create one project. 
Use Code: SANTA when ordering multiple tickets to receive 10% OFF 
Registration will close at 12pm on November 15th or when spaced are full.
HOW TO REGISTER:
1. Choose your Squishie design from the dropdown menu below. ( There will be plenty of Squishes available. & most likely the possibility to change the day of the party. )
2. Any notes or ALLERGIES in the custom box. 
3. Input anyone your child would like to sit with at the workshop.
4. Proceed with checkout.
Regular price $45.00 Sale
Terms
Once your order has been submitted we are immediately beginning the process of production of your personalized stencil. If you would like to cancel your reservation, you must give a minimum of 48 hour notice. Please note a restocking fee of 30% of the total amount of the workshop will be deducted from your refund. Same day cancellations or no-shows will not be eligible for a refund. Cancellations will be processed on the day we receive your cancellation request. It may take up to 2 weeks for the refund to return to the account you used to purchase your items. Hammer & Stain reserves the right to make any amendments to this policy at any time. Notification of any changes will be published on this page. If you have any inquiries regarding cancellations or any of our other policies please contact us.